What is Consumer Behaviour
Consumer behaviour simply means how consumers behave in the market. It defines the way in which consumers purchase products & services for satisfying their wants. It basically consists of likes & dislikes of customers which influence his decision while purchasing products.
It is a concept which consists of many stages. Starting from arising of a need till purchase of a product for end-use. Different consumers respond differently to the market. It is important concept for every business to understand its customers. This helps in better fulfilling of demands of the customers.
Businesses use customer relationship management technology to understand their consumers properly. It is a database which collects & store different information about their customers. This information helps in understanding the behaviour of the customers.
Different researches are conducted to gather information regarding consumers. New methods such as ethnography & consumer neuroscience are used by businesses in doing researches.
Importance of Consumer Behaviour in Marketing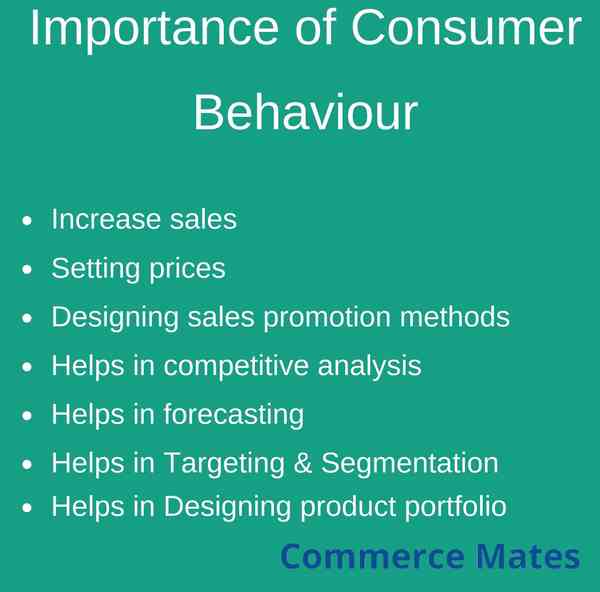 Increase sales
Consumer behaviour study helps the businesses in understanding their customers. They have full information about their customer's likes & dislikes. This helps in satisfying the wants of their customers properly & efficiently.
Business will offer the right product to its customers. Customers will become loyal if getting the right product. This will increase sales & revenue for business.
Setting prices
Setting prices is one of the important & difficult task for any business. It directly influences the demand for its products in the market. By understanding consumer behaviour, it becomes easy to determine whether the customer is price concerned or quality concerned.
There are some customers in the market who buys products only because they are cheaper. Understanding their behaviour will help companies to produce as per their price limit.
Designing sales promotion methods
Sales promotion activities are the different methods used for inducing customers to buy a product. Promotion activities are effective if they present clearly the features of the product as per customer needs.
These activities should affect the psychology of customers directly & inducing them in buying. Understanding their behaviour will help in easy understanding of factors affecting customers buying decisions.
Helps in competitive analysis
Facing competition in today's market is a very tough job for every business. There is a large number of competitors available in the market offering the same products. It becomes difficult to attract customers towards your products.
Understanding their behaviour helps in analysing the reasons for which they are going for competitors' products. It helps in understanding the advantages that competitors are possessing. This help in facing the competition in a better way.
Helps in forecasting
Forecasting helps in taking competitive advantages from the businesses. If the business is able to forecast about the future it can easily take several advantages. Consumer behaviour enables the businesses in easy forecasting of sales & demand forecasting.
It helps companies in saving their resources, time & cost. They can easily predict future demands & focus on their operations.
Helps in Targeting & Segmentation
Segmentation & Targeting helps in serving customers properly. It segments the customers according to their taste & class. Segmentation helps in serving the customer better. It helps businesses to focus on customers as per their needs.
After understanding consumer behaviour, it becomes easy to segment different customers into different classes.
Helps in Designing product portfolio
Product portfolio refers to a set of different products offered by businesses. Every business product portfolio must consist of all class of products. It should have products for all class of peoples in the market.
Understanding customer behaviour helps the businesses in easy understanding demand of market. This will help in proper designing of product portfolio for the businesses.