What is Information Technology in Business?
Information technology refers to the tools or machines that makes the completion of work easy. It involves the use of computers and other technological equipment to store, retrieve and transmit data.
Business refers to an organization involved in the buying and selling of goods or services to the customers.
The success of any business depends on some important factors and choosing the right information technology is one of those significant factors. It is well known that the organization who invest in technology, choose the correct future. They have a vision to leads the market share and profit.
Information technology is the only technology which provides the opportunity to analyze the specific user data and plan the future business journey accordingly.
Uses of Information Technology in Business
Uses of information technology in business are discussed briefly from the following head :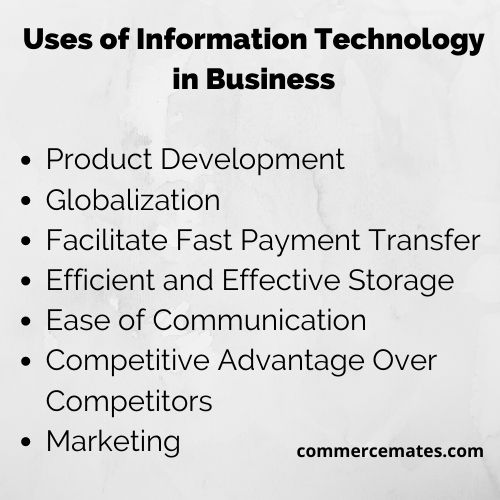 Product Development
Information technology helps businesses to identify the changing customer's needs more quickly than the traditional research and react strategy. it ultimately helps the business to respond fast according to the change in the external environment. Information technology can speed up the time of new products to hit the market.
Globalization
globalization refers to the integration of markets in the global economy. Information technology helps businesses initially to grow locally and then internationally. A business organization can outsource its noncore work to the other small companies globally and use the network technology for reporting .
Facilitate Fast Payment Transfer
Nowadays currency transfer between two or more parties digitally is the fastest to settle out any business transaction. It is far cheaper than the traditional way of sending paper invoices and then settling payment.
Efficient and Effective Storage
Almost every business organization uses computer for data storage of the business. Computer software like excel and office help in keeping the figures at fingertips. Accounting software like tally stores the sales information, tax records, and specialized data for the business.
Ease of Communication
Communication in the 21st century is done majorly through e-mails. Communication by email is faster and cheaper than sending a letter by post. The biggest advantage of communicating with the help of technology is speed. The speed of communication has increased the speed at which the business can be done.
Competitive Advantage Over Competitors
companies making proper use of information technology can get the first-mover advantage. They can create new products that differentiate them from the existing market. Efficient use of information technology also helps in reducing the cost per unit through increasing productivity.
Marketing
In the 21stcentury, marketing digitally is a great tool which let us promote our products and services to the international market while sitting in the comfort of our home or office. With the help of internet technology, we can increase presence, advertise, take orders, sell or operate business entirely online.