What is the Distribution Channel?
Distribution channel simply refers to the path or route through which product moves from producer to ultimate customer. It is through distribution channels that businesses are able to deliver their products to customers.
The place of production & consumption of products is not the same; therefore distribution channel has an efficient role in overcoming this problem. Distribution channel overcomes the place barrier in delivering the products.
If customers are not able to get their products at the right time & in proper condition from businesses, they will definitely look for other options in the market. Businesses should therefore carefully decide their distribution channel for serving their customers better & winning their loyalty.
There are basically 2 types of distribution channels available for businesses. First one is the direct channel or zero level channel. In this channel, the producer directly delivers its products to customers with no intermediaries involved.
Second one is the indirect channel in which there is involvement of different intermediaries & middlemen between producer & customers. These middlemen help the producers in delivering their products. These intermediaries or middlemen are known as wholesalers, retailers & agents.
Importance of Distribution channel
Distribution channels have a very efficient role in the smooth functioning of businesses. Some of the importance are discussed below: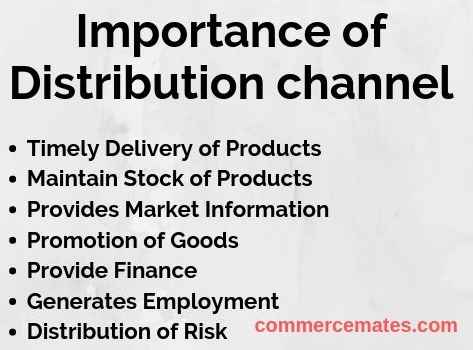 Timely Delivery of Products
This is one of the important function of distribution channels. Distribution channel helps in the delivery of products to customers on the right time. If products are not available at the right time to customers, it may disappoint him.
It has removed all distance barriers for businesses while performing their operations. Distribution channels have made it possible for businesses to serve customers even at large distant places.
Maintain Stock of Products
Distribution channel has an efficient role in maintaining sufficient stocks of goods. It helps in maintaining the supply of goods as per the demands in the economy. Distribution channels performs functions of storing the products in warehouses & supplying them according to demand in the market. It avoids all cases of shortage of supply of goods in market.
Provides Market Information
Distribution channel is served as the medium through which business acquire all required information from the market. It takes all information like demand, price & nature of competition in the market from its different intermediaries involved in its distribution channel. Also, customers provide information & various suggestions to producers through these channels. It helps in formulating strategies according to that.
Promotion of Goods
Distribution channels helps in marketing & promotion of products. There are several middlemen's who are involved in the distribution system of businesses. These intermediaries inform the customers about the product.
They introduce them with new products & explain them to its specifications. Customers are induced & motivated to buy these products by intermediaries. Hence, the distribution channel has an efficient role in promotion & marketing of goods.
Provide Finance
Business gets financial assistance from the distribution channel. Intermediaries involved in distribution channel buys goods in bulk from producers. These intermediaries give payment to producers while purchasing.
Then these middlemen sell these goods to customers in quantities demanded by them. They even provide credit facilities to the customers. However, producers get timely payment & are saved from blocking of their funds through credit selling. Therefore distribution channel regulation the funds' movement of businesses.
Generates Employment
Distribution channel generates employment in the economy. There are large number of peoples who are involved in the distribution system of businesses. These people are wholesaler, retailers & different agents. All these people earn their livelihood through working in these distribution channels. Therefore, distribution channels are creating employment opportunities for large peoples.
Distribution of Risk
Risk is something which is associated with each & every business. Distribution channels save the producers from the risk of delivering products to customers safely & timely.
It becomes the duty of intermediaries that are involved in the channel to deliver it to customers timely. Producers focus only on their production activities & don't need to consider issues about delivering products.
---
Search an Article
---