What is Marketing?
Marketing words derived from the Market. Market is a place where buyers and sellers come together and exchange products and services. Marketing is a process of determining the needs and wants of consumers. It helps the customers to provide them those products that they are looking for. It helps the company to find out new customers.
in this article, we learn about the Scope of Marketing
Definitions of Marketing
According to Candiff and Still
Marketing is a social process by which products are matched with markets and through which the consumer is able to use or enjoy the product. It makes goods and services more useful to the society by creating the place, time and possession utilities
According to William MPride and OC Ferrel
Marketing is the process of creating, distributing, promoting, and pricing goods, services and ideas to facilitate satisfying exchange relationships in a dynamic environment"
Scope of Marketing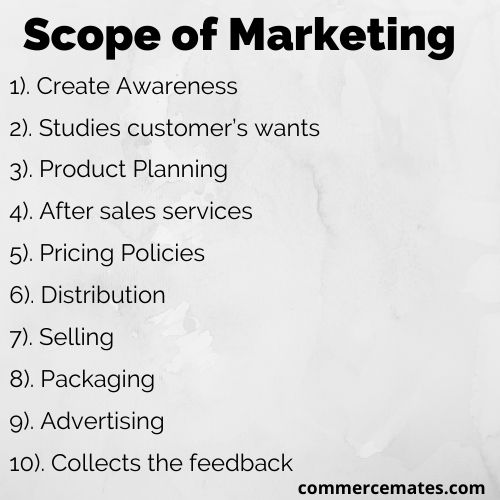 Product Planning
Product Planning is also an important part of marketing. Marketing helps the company to design the products or goods. According to the requirements and needs of the customers. Their price is fixed according to the prices of competitors. This is the most important function of marketing.
Advertising
This is the Era of advertising. It is considered that if you will not advertise your products. then you will not be able to sell your products on the market. And you can not survive for a long time. Advertising can be done through newspaper, magazines, social media platforms and etc. Marketing includes the advertisement.
Pricing Policies
The Pricing of products is the most important thing for the customers. The company should decide the price of the products. depending upon its customer needs or requirements. The price of products depends on competition, product, marketing goals and etc.
Distribution
The distribution channel is the most important thing. To increase the sells of the products. Because when the company has good numbers of the distribution channel. Then The chances of acquiring new customers increases.
Selling
Selling is the supply of goods and services to customers directly or indirectly. Selling involves various activities. Include approaching to the new customer, giving the demonstration, making sales on huge discount and getting feedback. it plays a very important role in selling.
Packaging
Packaging protects the product from damage. The packaging of products increases the goodwill of the product. it attracts the new customer to buy the products. So, attractive packaging is the likes of modern customers.
Suggested Video