WHAT IS VENTURE CAPITAL MARKET?
Venture capital is a source of financing that investors provide to the startups and early age companies, that will have long term growth potential. Venture capital basically comes from big investors, investment banks or financial institutions. Sometimes, startups or early age companies do not get financial support, they also get technical or managerial expertise.
TYPES OF VENTURE CAPITAL FINANCING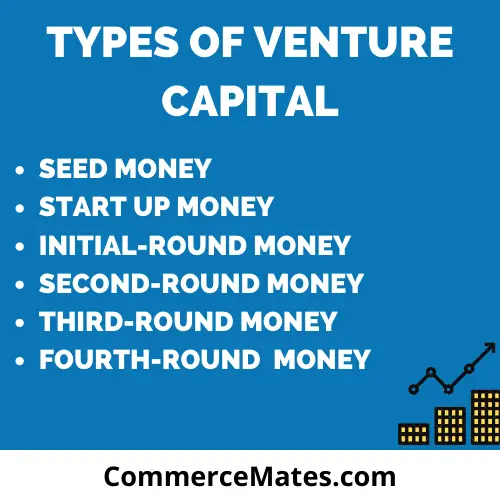 Seed Money
Seed money means the amount an entrepreneur needs to start his business. Seed money is used by entrepreneurs to make his ideas into reality. This money helps the entrepreneurs to start his idea.
Start Up Money
Startup money is the amount that a startup company needs to market their products or services. This amount basically works to develop the products and services. An entrepreneur needs Startup money when he started business but need more money to scale the business.
Initial-Round
Initial- Round funds help the startup to manufacture their products or provide their services in Large scale. When the business is setup and initial goals achieved by the entrepreneur. Now, he wants to target big audience, that time initial round helps to scale the business.
Second-Round
Second-round is the capital for those startups that are selling the products and not getting the profit out of it.
Third-Round
Third-Round financing source helps to grow newly beneficial structure.
Fourth-Round
it is also known as bridge financing and the proposed for public process financing. it is a situation when business started offering share to the public.
SOURCES OF VENTURE CAPITAL FINANCING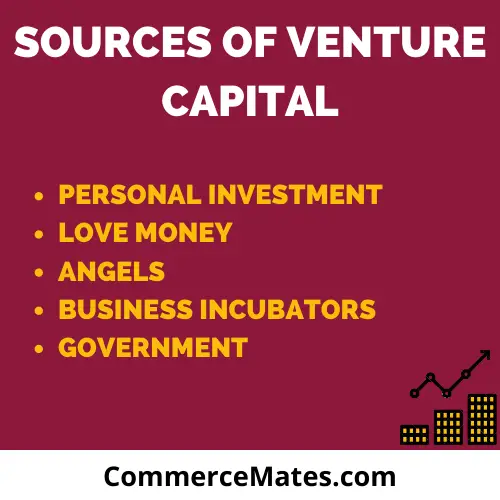 Personal Investment
When you are going to start your business, you should be the first investor of your own. it should be cash or your own assets. This provides faith to the investor that how much believe you have on your idea.
Love Money
love money is the money you get from your family, friends or relatives. A business relationship should not be taken lightly with family or friends. They are people who believe in your ideas after you.
Angels
Angel is the wealthy individual who directly invests in small companies. Angel is the first person in the corporate world, who invest in the company. Angel helps the startups to boost their ideas into reality.
Business Incubators
Business incubators help the startups to provide the non-financial things i.e, office space, marketing etc. This incubator programs help the entrepreneurs to setups .
Government
Startups help the economy to grow and provide taxes to the government. That is why the government has started many programs for startups, they can get funds for their ideas.