Meaning of Human Resource Planning
Human Resource Planning is a process used by organisations for the management of human resources working with them. This is a technique which helps in maintaining the approximate number of employees in a business organisation. Human resource planning aims at removing the gap between the current human resource capacity of business and their prospected capacity. It aims at full utilization of employees working in the organisation to achieve desired goals timely.
Human resource planning helps the organisation in analysing the optimum number of human resources and also recognises the sources from which these human resources can be obtained. Shortage or excess of employees in any organisation will adversely affect the productivity of any organisation and human resource planning helps in avoiding this situation. It aims at matching the right person at the right job at the right time to achieve the maximum output.
Human resource planning is one of important managerial function required by every organisation to remain profitable and productive. It mainly involves four important roles: Analysing current supply of employees, forecasting future demand of employees, removing gap of current supply and future demand of employees by acquiring them in right number and focusing on business goals. Importance of Human Resource Planning in the Business organisation can be well understood by the following points
Importance of Human Resource Planning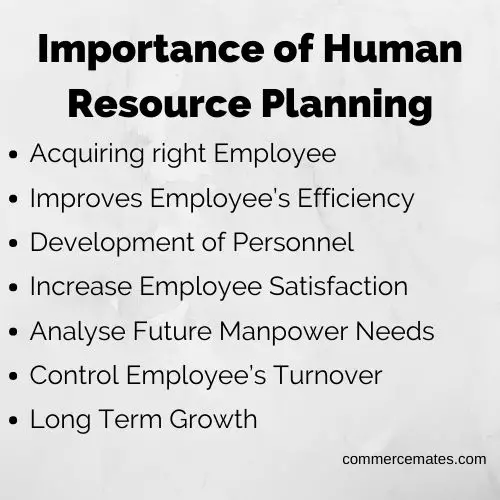 Acquiring Right Employee
Human resource planning aims at hiring the personnel according to the requirements of the job. It aims at matching the right person with the right job. Jobs are provided to individuals according to their qualifications and skills. It involves proper analysing of employee's qualities and skills before hiring them for a particular job role.
Improves Employee's Efficiency
Improving the efficiency of its employee's is a great challenge before every business. Human resource planning helps business in analysing the output of people working with it and suggests the ways of improving their efficiency. It ensures that manpower is efficiently utilized and keeps a check on whether all employees are properly delivering their roles.
Development of Personnel
Human resource planning involves imparting education and training to all employees working within the organisation. As per the market requirements, it improves the skills of employees by organising various training and development programmes. It identifies the skills of various personnel's and provides them training accordingly as per the requirement. 
Increase Employee Satisfaction
Satisfaction of employees is important for retaining the employees in the organisation. Human resource planning helps business in working for the welfare of its employees. It aims at providing better working conditions, fair salaries and wages and several other amenities. By focuses on the welfare of employees Human resources planning increase the satisfaction level and productivity of employees.
Analyse Future Manpower Needs
Human resource planning helps in meeting the future manpower requirements of the organisation. It analyses the present manpower capacity and forecast the future requirement and then aims at meeting the gap between the two. Business through this process acquires and maintains the right number of personnel according to the requirement of time. 
Control Employee's Turnover
Employee's turnover has a great impact on the profitability of the business. Every business aims to control and minimize their overall cost incurred on its employees. Human resource planning focuses on maintaining the accurate number of personnel in every organisation as per requirement. Any excess or shortage of employees is all fulfilled through proper analysis and planning. This way it controls all expenses required for hiring and maintaining of new personnel's.
Long Term Growth
Human resource planning has a great impact on the growth and survival of every organisation. It improves the efficiency and profitability of a business by efficiently utilising all human resource. This technique focuses on organisation goals by keeping a check on the roles and duties of all persons working within the organisation. It performs analysis from time to time within the organisation and takes corrective measures in order to improve any deficiency. Therefore proper planning of human resource helps in increasing the productivity and made timely achievement of goals possible.