Meaning of Receivable Management
Receivable management is a process of managing the account receivables within a business organisation. Account receivables simply mean credit extended by the company to its customers and are treated as liquid assets. It involves taking decisions regarding the investment to be made in trade debtors by organisation. Deciding the proper amount be lent by the company to its customers in the form of credit sales is quite important. It affects the overall cash availability for undertaking various operations.
Receivable management business ensures that a sufficient amount of cash is always maintained within the business so that operations can continue uninterrupted. It helps in deciding the optimum proportion of credit sales. The overall process of receivable management involves properly recording all credit sales invoices, sending notices on due date to collection department, recording all collections, calculation of outstanding interest on late payments etc.
Receivable management aims at raising the sales volumes and profit of the business by managing and providing credit facilities to customers. A proper receivable management process aims at monitoring and avoidance of occurrence of any overdue payment and non-payment. It is an effective way of improving the financial and liquidity position of the company. Credit facilities are important for attracting and retaining customers and this makes management of credit facilities by business crucial. Objectives of receivable management are as follows:
Objectives of Receivable Management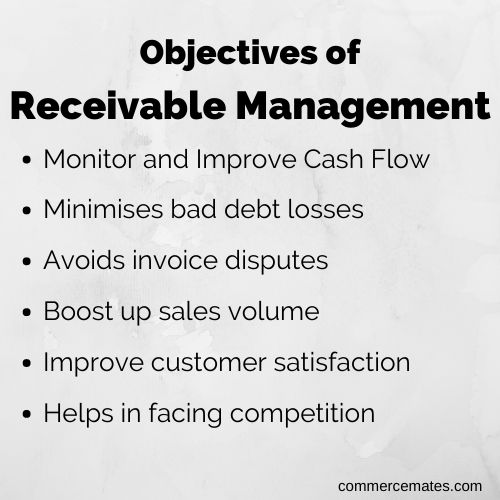 Monitor and Improve Cash Flow
Receivable management monitors and control all cash movements of organisations. It maintains a systematic record of all sales transactions. Receivable management helps business in deciding appropriate investment in trade debtors. It aims that a sufficient amount of cash needed for day-to-day activities is maintained at business. Credit facilities are extended by doing proper analysis and planning to ensure optimum cash flow in a business organisation.
Minimises bad debt losses
Bad debts are harmful to organisations and may lead to heavy losses. Receivable management takes all necessary steps to avoid bad debts in business transactions. It designs and implement schedules for collection of outstanding amount timely and informs the collection department on due dates. Customers are notified for amount standing against them and charges interest on delay in payments. 
Avoids invoice disputes
Receivable management has an efficient role in avoiding any disputes arising in business. Disputes adversely affect the relationship between customers and business organisations. Complete and fair record of all transactions with customers are maintained on a daily basis. There is no chance of confusion and dispute arising as all sales transactions are accurately maintained. Automated receivable management systems present full evidence in a short time in case of dispute arising for resolving them.
Boost up sales volume
Receivable management increase the sales and the profitability of the organisation. By extending the credit facilities to their customers business are able to boost up their sales volume. More and more customers are able to do transactions with the business by purchasing products on a credit basis. Receivable management helps business in managing and deciding their investment in credit sales. This leads to increase in the number of sales and profit level.
Improve customer satisfaction
Customer satisfaction and retention are key goals of every business. By lending credit, it supports financially weaken customers who can't purchase business products fully on a cash basis. This strengthens the relationship between customer and organisation. Customers are happy with the services of their business partners. Receivable management help in organising better credit facilities for their customers.
Helps in facing competition
Receivable management helps in facing stiff competition in the market. Several competitors existing in market offers different credit options to attract more and more customers. Receivable management process analysis all information about market and helps the business in farming its credit lending policies. Customers are provided better services by extending credit at convenient rates. Appropriate amount and rates of credit transactions can be easily decided through receivable management process. All credit and payment terms are decided for every customer as per their needs.