What is Supply Chain Management?
Supply Chain Management is a systematic and strategic management of the product from raw material to finished goods. SCM helps the company to maximise their productions. SCM is also called the art of management by providing the Right Product, At the Right Time, Right Place and at the Right Cost to the Customer.
Nature of Supply Chain Management
Supply chain management helps to manage daily activities such as demand management.
Supply chain management helps to manage activities such as day-to-day manufacturing operations.
Supply chain management helps to minimise the risks of damaging or losing of the product.
Supply chain management provides effective management to the company.
Objectives of Supply Chain Management
Supply chain management tries to minimize shortages and keep costs down.
To Minimise work in progress.
To Reduce transportation cost.
To increase distribution channel of the product.
To provide social services by giving them electricity, food, medicine and etc.
To make plans and strategy in order to maximise productivity and achieve on-time performance.
To increase customer satisfaction by delivering products to consumers on time and providing fast service.
Scope of Supply Chain Management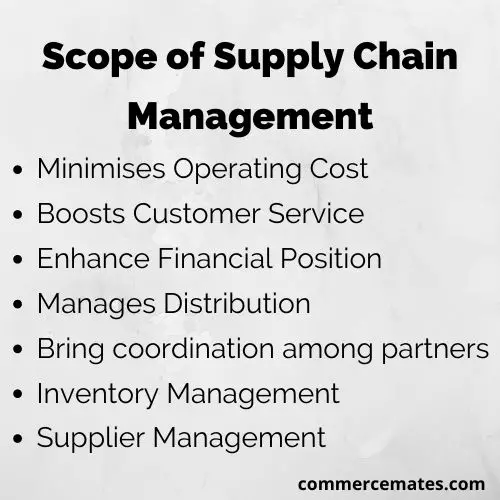 Minimises Operating Cost
Supply chain management focuses on reducing the overall operating cost of the organisation. It aims at bringing efficiency and raising the profitability of organisations. By developing a proper chain it brings down the purchasing cost, production cost and delivery cost. It enables smooth flow of raw materials from the supplier to an organisation which reduces the holding period of materials with the supplier and avoids any losses due to delay in production. Similarly, companies are not required to hold on expensive inventories for a longer time and distribute quickly through the supply chain.
Boosts Customer Service
Supply chain management helps in providing better service to customers. All production strategies are framed in accordance with requirements of customers to manufacture right product. It properly anticipates the demands of customers before initiating the production. Supply managers monitor all operations of business and ensure that quality products are produced using best combination of resources. Right product available to right cost provide better satisfaction to customers. This will boost their confidence level in company's products.
Enhance Financial Position
Management of supply chain has an effective role on the financial position of business. It improves the efficiency of the organisation, cut down the excessive cost and avoids any shortage. Supply chain manager bring down the cost by reducing the use of fixed assets like plants, transportation vehicles, warehouses etc. Proper supply chain results in speedy flow of products which minimises the blockage of funds in inventories. It ensures that optimum funds are always available which helps in improving financial position.
Manages Distribution
Distribution of products at the right time and the right location is a complex task for every organisation. Supply chain management accelerated the overall distribution system of an organisation. It coordinates with various transportation channels and warehouses for attaining faster movement of goods. Supply chain managers ensure that all products get delivered at the right location within the time limit. By developing a proper network for movement of goods it has to ease the whole distribution system.
Bring coordination among partners
Proper coordination among all partners of business increase productivity and profitability. It develops a proper channel through which employees, supplier and customers can easily interact with business. Managers can easily control the activities of their subordinates by communicating them all the required information.
Employees in case of any problem or error can contact their supervisors. Customers can also access their brands for any information through self-portals which are developed as a part of the customer support system. This enables a better exchange of information and brings coordination among partners.
Inventory Management
Maintaining an optimum inventory is a must for uninterrupted operation of every business. It keeps record of all inventories that is raw materials, spare parts and finished goods. Supply chain managers ensure that the proper amount of inventory is always maintained within the organisation. They work towards avoiding situations like understocking or overstocking. Supply chain managers frame proper strategies for procuring, producing and maintaining all inventories as per requirements.
Supplier Management
Supply chain management works on strengthening the relationships between business and suppliers. It tracks and records every interactions or transaction with the suppliers. Proper supply chain enables timely procurement of all required raw materials from suppliers. It develops a proper network through which suppliers and business can easily interact. Supply chain management solutions provide a self-service portal through which suppliers can contact the company in case of any issues or problems.
Read More: Objective of Supply Chain Management