What is Operations Management?
Operation Management means planning, organizing and directing day to day tasks in order to achieve daily tasks. Operations Management is responsible for the maintenance and management of the organization of daily goals.
Definition of Operation Management
According to Wikipedia
Operations management is an area of management concerned with designing and controlling the process of production and redesigning business operations in the production of goods or services.
According to Galloway
"Operations management is concerned primarily with manufacturing or the change of state of physical goods".
Functions of Operations Management in an Organisation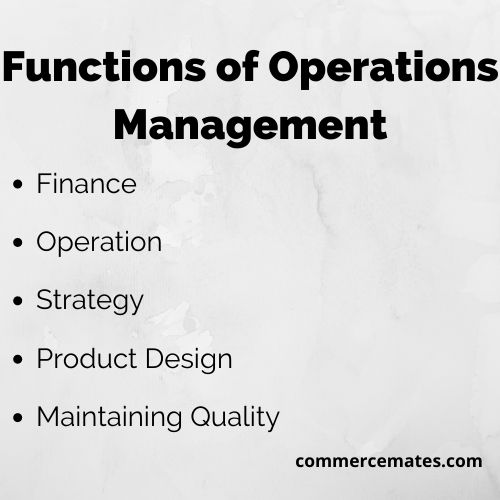 Finance- Finance plays a main function in operations management. The operation manager should not waste finance in unproductive tasks. He should ensure that all finance of the organization is utilized for the manufacturing of useful goods or services which may satisfy consumer wants.
Operation– The function of operation management is basically concerned with planning, organizing, directing and controlling of daily routine operations of an organization. The operation manager ensures that all activities are going effectively and efficiently.
Strategy– The strategy formulation is also the main function of operation management. The operation manager should have pre-planned tasks. Formulation of plans and tactics helps the organization in optimizing their resources and developing a competitive edge over competitors.
Product Design–  It is the duty of operations manager to design the product according to the market trends and demands. He should ensure that innovative techniques are incorporated within the product and its quality is maintained. 
Maintaining Quality–  Operations managers should ensure a better quality of products. The manager should not compromise with the quality of Products. They should work on quality management and should supervise all tasks. If any defects are found they should take steps to rectify such defects.
Importance of Operations Management in an Organisation
Helps in achievement of objectives: Operations management has an effective role in the achievement of pre-determined objectives of an organization. It ensures that all activities are going as per plans by continuously monitoring all operations of organization.
Improves Employee productivity: Operation management improves the productivity of employees. It checks and measures the performance of all people working in the organization. Operation manager trains and educate their employees for better performance. 
Enhance Goodwill: Operation management helps in improving the goodwill and presence of the organization. It ensures that quality products are delivered to all customers that could provide them better satisfaction and makes them happy.
Optimum utilization of resources: Operation management focuses on optimum utilization of all resources of the organization. It frames proper strategies and accordingly continues all operations of the organization. Operation managers keep a check on all activities and ensure that all resources are utilized on only useful means and are not wasted.
Motivates Employees: Operation management helps in motivating the employees towards their roles. Operation managers guide all peoples in performing their roles and provide them with better atmosphere. Employees are remunerated and rewarded according to their performance level.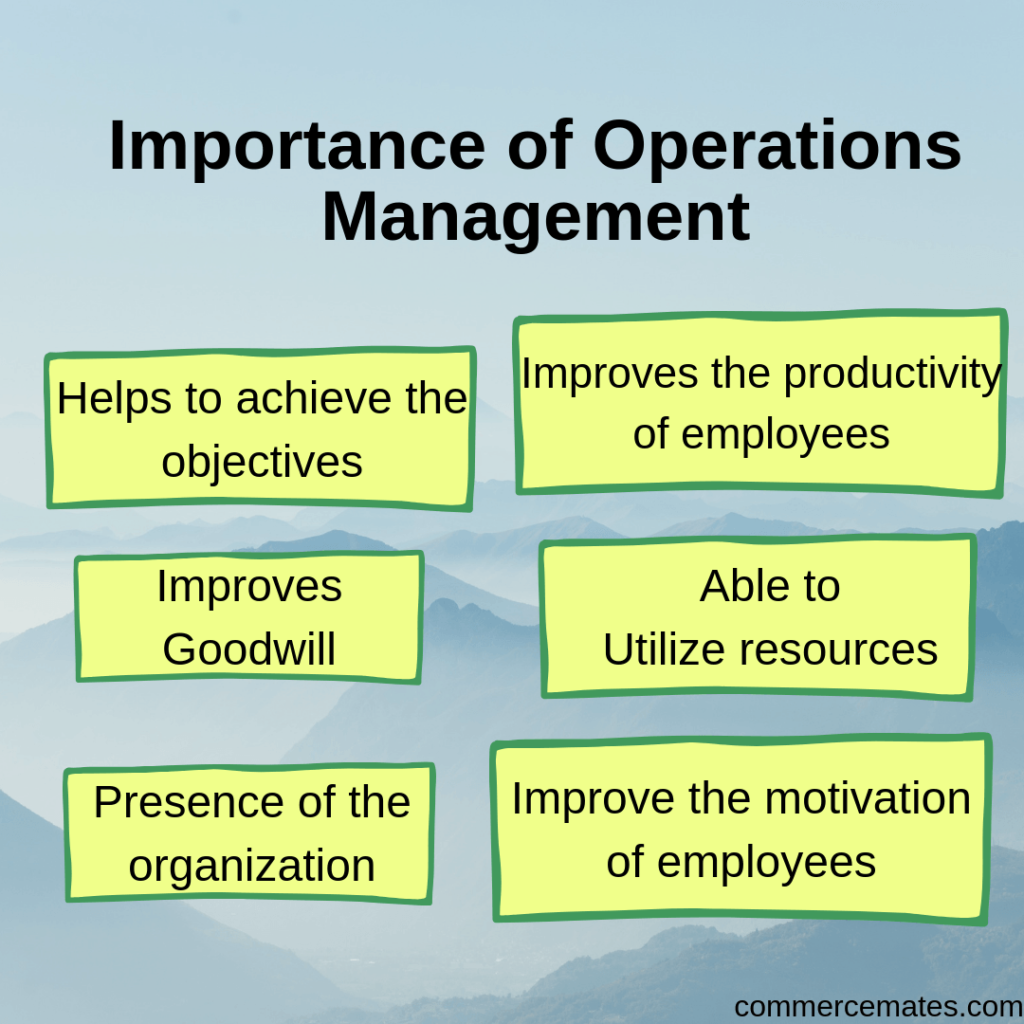 Nature of Operation Management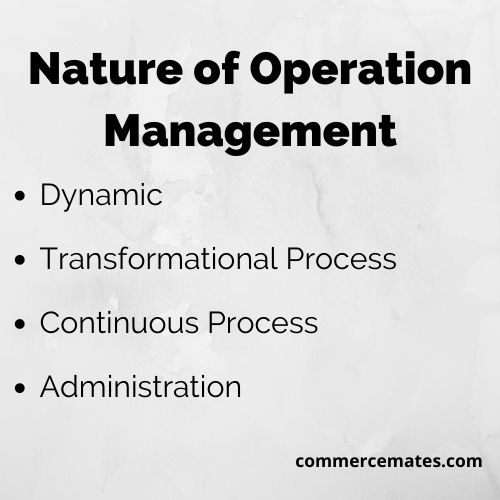 Dynamic- Operations management is dynamic in nature. It keeps on changing as per market trends and demands.
Transformational Process– Operation management is the management of activities concerned with the conversion of raw materials into finished products.
Continuous Process– Operation management is a continuous process. It is employed by organizations for managing its activities as long as they continue their operations.  
Administration– Operation management administers and controls all activities of the organization. It ensures that all activities are going efficiently and there is no underutilization or mis-utilization of any resource.
Key Approaches to Operations Management
The first approach of operations management is to Design of goods and services, that will attract customers.
To manage the Quality of products or services.
Location Strategy is also a key approach of operations management.
To manage Supply Chain Management.
To create Accountability of operations managers.
To accept the Change.
Operations Management Examples
Suppose A company wants to manufacture Mobile in India. The company needs to take some operations decisions. For example:
Purchasing of Raw material from China(assumed).
To hire skilled and qualified employees.
To set Manufacturing units.
To make sure the supply chain of mobile phones.
To set services center across the country.
If the organization makes good operations decisions, Then the company will be able to produce affordable, functional, and attractive Mobile phones.